MEDIA OUTLET



​

Our media center features articles submitted by our subscribers as well as interviews with amateur hockey players, coaches, and those that have contributed to the growth of amateur hockey throughout the US and Canada
Hockey Season Start Up Checklist
Ask any prizefighter – or even any good hockey player – and he or she will tell you: the fight is won not in the ring, but in the months of preparation beforehand. So while it will be incumbent upon your young skater to diligently practice, prepare, and position him or herself for success, we as parents can set a good example.
Check the gear from head to toe, toe to head, and every neutral zone in between. Chances are your hockey player grew a little, and maybe even grew out of some of his or her gear. It's not just a matter of comfort, but safety too. Good coverage can help protect players and avoid injury from board collisions, sticks, and pucks. Not sure if you can get another year out of the gear? Auburn, NY hockey mom Jackie Reilly makes a trip to her local retail hockey store, and has them judge what's good and what needs to be replaced. She also picks up spare blades, laces, sock tape, mouth guards, and stick tape. Then it's off to the drug store to stock up on ibuprofen and wipes. It all gets packed in a travel crate stored in her Suburban – along with hoodies, blankets, gloves, spare shirts, books, and odor ban travel spray.
As big or bad as any fighter may be, as talented as he or she may be, a prizefighter is only as good as his or her trainer (remember where Rocky was before Mickey taught him to eat lightning and … dispense with the thunder?). So as the person in charge of the corner, make sure your crew knows the rules. School comes first, and sticking to that solid sleep schedule is important too. Other sports, family time, rest, and relaxation need to be in your lives too. Hockey may be a passion, but don't overdue it.
The preseason team meeting can be one of the most important events of the
season. It will help you determine costs, travel plans, goals for the team, the coach's philosophy, and give you a chance to develop a good relationship with the coach. Don't skip it! It takes a team to run a team, so don't be afraid to get on board with tackling a new role, like team manager. You just may get hooked!
Hockey mom friend Sharon Enck – aka "Puckgal" – has a heart to heart with her goalie daughter before the start of each season, asking things like what she's excited and nervous about. What does she want to work on this season? "Of course, I don't interrogate her all at once because she would probably just clam up if I did," says Enck. "I drop these questions in during a car ride or on a walk to get the 'real' answers." Enck says that gut check helps her figure out the best way to steer the season. She also does the nose a favor with a good old fashioned sterilization of smelly equipment. The motto for her entourage? "Begin fresh and end filthy." It may not have the same panache as Burgess Meredith's infamous line to Rocky, but the sentiment remains – put in the time before you get ready to rumble, and you and yours will be able to proclaim to Adrian and everybody, "Yo, I did it!"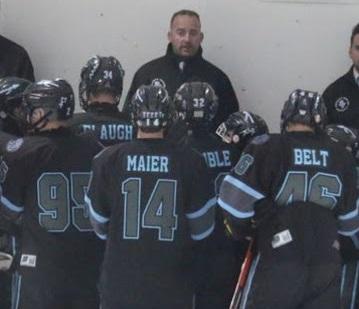 Our interview with Anthony Raco, Head Coach of the 2018 AAA Penguins Cup Champion, Seneca Valley Raiders. Anthony played his youth hockey with the Mt Lebanon Hornets followed by club hockey with the Edinboro University Fighting Scots. He has coached with Seneca Valley for 10 years now at the middle school, JV, and Varsity levels.
__________________________________________________

Friday, July 20, 2018
RTH: First and foremost, congratulations on bringing Seneca Valley their first ever Penguins Cup championship. What does bringing the Cup to SV mean to you as a coach?
AR:It's a personal goal I set out when I became the head coach for the varsity program. My first 2 years the varsity team lost both Pens Cup Finals back to back years. I wanted to be a part of bringing a championship to the program and be able to put SV on a list of great teams who have won a title. We as coaches put a lot of work in and demand a lot from our players. It was a lock in moment being able to see a different demeanor from my players being able to be on the upside for once.
RTH: Given that SV gave up a total of 35 goals during the 2017-18 PIHL season, you are, obviously, a defensive-minded coach. Where and why did you adopt this defensive philosophy?
AR: When I think of defense its not just in our Dzone. I want my players to understand defense in every zone. Whether you are on a forecheck in their end you have to understand when to be aggressive and when to know to give up the zone and then to begin to play defense in the neutral zone. Its all about layers and everyone being able to understand their roles in certain situations. I make sure I do a lot of film study with our guys so they know what they are about to face and I think that transitioned well for us.
RTH: With the 2018-19 season nearly upon has, which players are you banking on leading this team to a potential Penguins Cup repeat?
AR: Tyler Draper is going to have a big role this year. He is the only returning captain that was on the roster from last year. He has a lot of skill and he has really developed and changed his game and I expect big things from him. Bryce Korner on the defensive end was really good for us last year. Michael Spokane who is going to be a junior led us in goals last year and he has the drive and skill to really have a positive effect on the locker room.
RTH: Heading into the 2018-19 season, what other teams are you looking at to challenge you for next years Penguins Cup?
AR: Its hard to say because AAA points are tight every year. So there is a lot of respect for all the teams within the classification. There are a lot of great coaches whom I respect highly. Each game is competitive and you can't overlook anyone especially in the playoffs.
RTH: Meadville's, Jamie Plunkett, is entering his 32nd year as Head Coach of the Bulldogs and has amassed over 1000 wins. Do you see yourself staying with SV for an extended run or do you have interest in advancing to a higher level of hockey?
AR: Right now I love my time here at SV and have plans to remain here for a long time. High school hockey provides me to be able to balance hockey and family the best right now. I've had nothing but a great experience here at SV and want to win more titles and aim for a State title. If hockey could lead to higher levels for me it probably wouldn't be until the time was right.
RTH: What would you say your biggest weakness as a hockey coach is?
AR: Its tryouts. I'm a teacher and a high school coach. So when what you chose as a career is working with kids you want to see them all succeed. SV is a pretty big school and we have 5 teams. It's hard when you have to turn kids away or a senior doesn't make the varsity team. You have to put the right kids on the right team. Some of the conversations after tryouts are hard and you try to be as supportive as possible.
RTH: Other than the Penguins Cup championship, what is your most memorable experience as a coach?
AR: Probably every time that I run into a former player after they graduate. Coaching is about forming bonds with your players. Not just for when they play for you but after as well. I keep in touch with quite a few or its always nice to catch up. I was blown away by all the messages I got from former guys after we won. That was special.
RTH: What is your advice to younger squirt and pee wee aged players in order for them to perhaps one day play High School or even Tier 1 hockey?
AR: Keep being motivated and keep creating goals for yourself. Keep trying to get better. Make skating your craft. This is what separates good players and elite players. Study study study. The internet is a huge library for players to go to for information on how to become a smarter player. Hockey is speed and IQ.
Anthony resides in McCandles Twp, PA with his wife, Amy, and 3 kids Mia(9), Khloe(6), and Easton(3)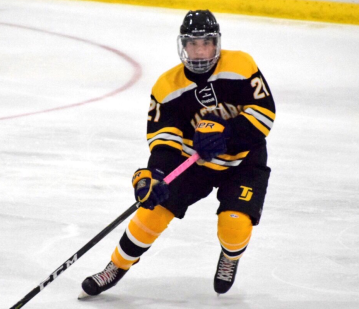 Our interview with Thomas Jefferson Jaguars Senior, Hayden Hintemeyer. Along with playing Varsity A hockey in the PIHL, Hayden also plays AAA for the Pittsburgh Predators. Following graduation, Hayden hopes to pursue a career in the NAHL or USHL as well as attending college as a Pre-Med major.
___________________________________________________

Saturday, October 13, 2018

RTH: At what age did you start playing hockey and why?
HH: I started playing hockey when I was 10 years old. I started getting into hockey because, my friend was having an ice skating birthday party. I didn't want to be the one kid who couldn't skate. So, I started going to free skates before then to practice my skating. Looking back now, it is pretty funny that I basically practiced for a birthday party. Ever since then, I began to like skating and hockey soon came along with that.
RTH: Growing up, did you have a particular role model or someone you tried to pattern your game after?
HH: I had numerous NHL players I looked up to such as Datsyuk, Crosby, and Kane. Mostly, I looked up to many of my close friends who already had more experience than me.
RTH: If you weren't playing hockey what other sport would you be playing?
HH: Before hockey I was playing cup level soccer. Therefore, I would most likely still be playing soccer.
RTH: TJ is off to a running start at 2-0. What team do you see giving you the biggest challenge for the PIHL SouthWest title?
HH : I see South Fayette giving us the biggest challenge for sure. In the past years, we have developed a sort of rivalry with them I believe. They are a solid, tough team to play against. They never change the way they play, and they are one of the more physical teams in our division.
RTH: Can you see TJ making a run at a Penguins Cup championship this year?
HH : I believe we can make a run to be the champions this year if we stick to our game. We need to play our game and not let anyone else affect us. We know what we need to do to win our games. It comes down to our effort. I'm very confident in the team we have this year to do great things. My coach, Bill Crousey, has been a huge role in our teams past successful seasons. He knows how to run a hockey team for sure. I think our team this year needs to put trust in each other to make the right plays. It is okay to mess up as long as it is at full speed.
RTH: Do you have any pre-game rituals or superstitions that you absolutely can't do without on game days?
HH: Oddly enough, when getting ready, I put on my right side gear before my left. For example, I put my right shin pad on before my left. I have been doing it since I was younger, and it just kind of stuck with me. I also try to keep my sticks separate from other sticks because I do not like people moving or touching my sticks.
RTH: We interviewed your Predators teammate, Wyatt George, last season and he spoke very highly of the influence that Coach Gary has had on his career. How has Gary contributed to your progress as a high level hockey player?
HH: I owe Gary a lot as far as how I have progressed in the last couple of years in midget AAA hockey. Not only is he my trainer and coach, he is a good friend of mine for sure. I have grown up listening to what he has to offer me. As far as junior opportunities, he has been helping me find what's best for me. I appreciate the time he has given me as a player on and off the ice. Now, I understand he can't play for me, but he gives me ways to be successful every game. He is extremely smart in how he runs our team. He knows what system to use and how we can execute them to the fullest potential. He is a very understanding coach, and I think that is why it is so easy to get along with him. Although, he tells me when I need to change something in style of play, and he doesn't sugarcoat it either. I like that he is straightforward with me. Gary has definitely been, without a doubt, the most important figure to me when it comes to dealing with hockey.
RTH: Talk a little bit about your experience at the Johnstown Tomahawk's pre-season camp this year and what experience you gained from it.
HH: The Tomahawk camp was the first NAHL camp I have ever been to. First and foremost, it was very exciting to meet new players from all over. As far as the gameplay itself, it was very fast and physical. As many of the players there were older than me, I learned to not only adjust my speed, but to exceed in my gameplay while doing so. I was very happy with how I did at camp, but I do not think I was ready for that type of hockey so soon.
RTH: Now that you're in the NAHL "prospect pipeline", where do you see yourself playing hockey after graduation from TJ?
HH: I would love to be playing in the NAHL in the next year or so but, aside from that, I would like to play junior hockey in general. I will have to see how this year goes for me before I can decide what happens in the future. I just need to keep working hard and focus on what I can work on to be better.
RTH: Being a hockey parent myself, I know the commitment that it takes from both the player and the parents. What can you say about the support your parents have given you through your hockey career?
HH: The support my parents have given me over the last 7-8 has been incredible. I also have a younger brother and sister who are both well supported by my parents. They have helped me to achieve where I have wanted to be in the last couple of years. I remember making my first AA team, and I couldn't have been happier about it. Now, I'm trying to become the best AAA player I can be. They have helped me through droughts when things haven't really been going my way in games. To me, they give me something to play for. For all the money and time they put into me, the least I can do is to play for them to show them how much I appreciate what they have been able to do for me the past 7-8 years. They have provided me with everything I could have ever wanted in hockey and so much more, so I thank them for that.
RTH: Tell us one thing about your game that you think you need to improve on to become a better hockey player.
HH: Most definitely, I need to learn to skate with the puck more and be more confident. I am blessed to have a strong sense of hockey vision and decent stickhandling skills. I know in my head I can make the plays I want to make, but I just need to trust my abilities and let the talent take over. I have worked hard for the last couple of years developing certain skills such as stickhandling and my vision. Now, it is time to trust myself and let what I've worked on for so long to take over.
RTH: Lastly, and this is tough one: Peter Griffin, Homer Simpson, or Fred Flintstone?
HH: Without a doubt, Fred Flintstone would be my choice. This is only because I grew up eating Flintstone vitamins and Fruity Pebbles ;).
Hayden resides in Jefferson Hills, PA with his parents, Dave & Carol, brother Landen, and sister Raygen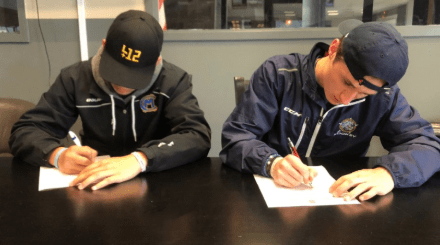 Teammates and rivals. Johnny MacDonald and Ryan Luppe are teammates with the AAA U18 Pittsburgh Predators and bitter rivals with their respective PIHL high school clubs. Johnny playing for the Canon MacMillan Big Macs and Ryan playing for the Peters Twp Indians. They will again become allied as they have both just signed contracts with the Rochester Monarch's of the USPHL National Collegiate Developmental Conference. They were gracious enough to take the time to talk with Real Time Hockey about their upcoming ventures.

________________________________________________________________________________________________________________________
RTH: Alright guys, first and foremost, let's get this one out of the way. Your two PIHL teams share a rink for home ice all year. How big is the rivalry between the Canon Mac and Peters Twp hockey clubs?
RL: The rivalry between us and Canon Mac has always been huge. It stretches through the team coaches, and even the people in the stands. Even though we know many kids on each team, it has gotten very physical before. By far the best games we play during the season. Definitely the one we circle when we first see the schedule.
JM: The rivalry between us is huge, it's been going on for a long time and when you wake up in the morning knowing your going to play Peter's is awesome, every night we show up to the rink and running out onto the ice and playing in front of a packed house it's pretty awesome.
RTH: Peters and CM finished at opposite ends of the spectrum in this years PIHL standings. In the next couple of years, how do you see the talent pool playing out for your respective teams?
RL: I can't really speak much for Canon Mac. But for my team Peters, I can say that every single year the expectation is to win a state championship. It has been that way since I was a Freshman and I'm sure it was like that before I came in. But the boys make sure that the message is well known throughout the room. And with our work ethic as a group and talent up and down the lineup, every year we are contenders.
JM: In the future I see Canon Mac hockey turning around and heading up in the right direction. The organization has brought in 2 penguins cups and is now hungry for a state title which I'm sure will come in the future.
RTH: Who or what influenced you to take up the game of hockey?
RL: My dad used to be an Equipment Manager for the Penguins back in the late 90's and 00's. When I was first born, I was probably 2 I think, and he put me on skates at the Mellon Arena and it just stuck from then.
JM: My family was a big part in influencing me to take my game up, they put me on skates at 3 years old and since then I loved it. After this year me and Ryan both talked to each other and decided we wanted to test the waters in juniors together and now we're here.
RTH: For the obligatory vanilla question: Growing up as a hockey player, what player did you try to model your game after and why?
RL: When I was younger I couldn't wait to be like Sidney Crosby of course him playing in my city. But as I grew up I realized I related most to Patrick Kane as I am a smaller player.
JM: Personally I see myself as an Erik Karlsson or a Kris Letang type guy. I love to join the rush when open or rush the puck and create scoring opportunities when the time is there.
RTH: Aside from Coach Godfrey(Canon Mac), Coach Tingle(Peters Twp), and Coach Klapkowski(Pittsburgh Predators) who has been the biggest influence on the progression and advancement of your hockey careers?
RL: I have to give the top spot to my coaches of course. But if I couldn't pick them, I'd have to pick my parents. They are the ones who keep me positive after the bad games. They really know how to turn my mood around when it comes to hockey. They make sure I am always working on my game on and off the ice.
JM: A big influence on me for progression has been my family, former coaches, and my friends. Your buddy's (teammates) who watch you tend to influence you to get to the next level as we all do to each other, we want the best for everyone. My teammates have played a big part in giving me confidence.

RTH: With you both of you in the top 7 in scoring, Johnny you were more of a playmaker and Ryan, you more of a goal scorer. Talk a little about your games and what you feel will be your biggest asset to the Monarch's heading into your first USPHL season.
RL: As I'm sure junior hockey is a lot different than amateur and high school. I know I can bring a speed asset to the Monarchs. Even though I am not the biggest guy. I think the best part of my game is my speed and shot and I hope to use that to the best of my abilities with the Monarchs.
JM: Heading up with the Monarch's I'm looking to bring a little offensive flare to my game. Like I said I like to join the rush when there and create scoring opportunities for my team.
RTH: You'll be playing for Coach Nick Unger in Rochester. Have you had a chance to talk to him yet and, if so, has he given you his expectations for the off-season and upcoming season?
RL: I have not talked to him so much about the upcoming season. But for the off season, we are due to report up to Rochester in late June for the combine. After that comes main camp and we go from there. With all the training and gym time I have been doing. I am very excited to get started with the Monarchs.
JM: I've talked to Coach Unger and the expectations are high, he's looking for me and Ryan to make the final roster, with signing the JPA we're looking to prove and give all we got and will see where it lands us after everything plays out.
RTH: With several kids from the Pittsburgh area already playing in the USPHL, has any of them reached out to you to offer advice in making the transition to Junior Hockey?
RL: I have not really talked to many NCDC players from this area. But my coaches have known players who went to that league. And they have coached against the teams and organizations and with that advice I thought it was the right fit for me to sign with the Monarchs.
JM: I've talked to a couple former teammates, "Luke James" "Nate McNamara", they want the best for us and talking to us about the league and how it can help our development.
RTH: At the conclusion of the 2019-20 hockey season, in your mind, what will have made the season a complete success?
RL: To end the season, the end goal is always to win a championship. But to also grow as a player and person. If I can come out of the end of the season and say I grew as a player and person, made life long relationships with my teammates, and hopefully got a scholarship on the table, that to me will make it the best case scenario. And with the Monarchs I believe I can do that.
JM: Making the season a complete success would be winning as a team. We're looking to come in and help the team as much as possible, and trying to make a good run for the future.

RTH: What is the biggest thing you are looking forward to in joining the Rochester Monarchs and the NCDC?
RL: The Monarch's have given me this chance to play in one of the better junior leagues in the States and I am very excited to come to them and add my game to their organization and make an impact. I can't wait to meet the guys and get back into the season swing.
JM: The biggest thing looking I'm forward to is my development and just being a part of a great organization and looking to create a better craft when a part of them.
RTH: The National Collegiate Development Conference(NCDC) is "dedicated to the mission of player development and advancement to college hockey". Have either of you set your sights on a particular college to continue your hockey career yet?
RL: I have not made any decisions yet on my college choice. But after this season I hope to have options and pick where I think is best for me as a player and student.
JM: An obvious goal for any kid would be to get a college scholarship. You know that's my goal is to eventually get a college scholarship and take my talents further in college weather that is D1 or a D3 scholarship.
RTH: Last question: Favorite TV show, movie, and band?
RL: Favorite TV Show: Chicago PD
Favorite Movie: Black Panther
Favorite Band: Red Hot Chilli Peppers/ Favorite rapper: Lil Uzi Vert
JM:
Favorite TV Show: The Office
Favorite Movie: The Blind Side
Favorite Band: Meek Mill or some Drake
We'd like to thank Ryan and Johnny for giving us the opportunity to get to know them a little better and to gain some insight into the thought process of making the commitment to jump to junior hockey. We wish nothing but the best of luck to both of you! #GoMonarchs